As of 13:10 PM EST, EV stocks are all trading with the U.S. Automaker Rivian (+3.86) leading the gains followed by Nio (+2.80%). The Chinese EV maker, Lucid Motors and Tesla are the most traded EV stocks so far.
Tesla is trading at $924.23, +1.86% higher from yesterday's close.
Morgan Stanley analyst Adam Jonas has released a new $TSLA report: Tesla Underground: The Boring Company & the 'Muskonomy' "While we identified a list of 26 'potentially exposed' names… if we had to pick just one publicly name to own today on the theme, it'd be Tesla."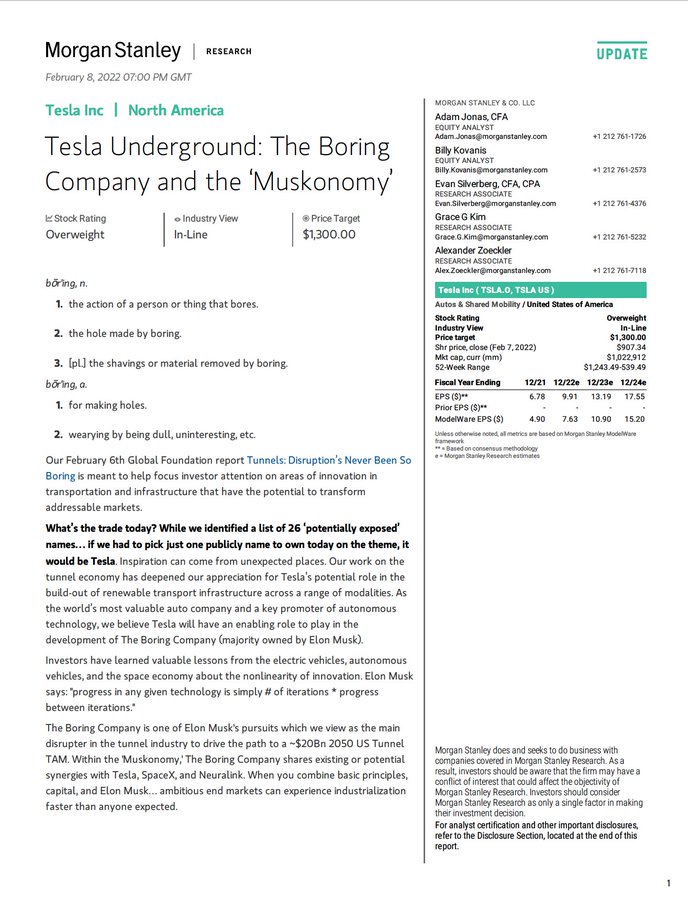 Tesla said on Monday it received a subpoena from the U.S. securities regulator in November related to the SEC settlement that required top boss Elon Musk's tweets on material information to be vetted, Reuters reported. Elon Musk's company recorded around $101 million of impairment losses from changes in the value of their bitcoin holdings last year.
Shares of Xpeng are currenlty flat after CEO He Xiaopeng sold $1.6B in shares according to SEC's report.
After hitting their lowest point since September following Morgan Stanley's downgrade of the company's stock to equal weight from overweight, shares of GM are now trading around $49.00 level.
Morgan Stanley lowered its price target on GM's stock to $55 from $75. GM's 2022 guidance coming in "well below" Morgan Stanley's forecast on top of concerns over the pace of the automaker's EV transition.
Lucid shares are trading +1.56% higher at $27.39 with 14M of volume, the second on the EV list after Nio
Lucid chairman told Bloomberg News that the EV maker is in talks with the kingdom to build a factory there by 2025 or 2026. "Now that we are successfully producing and selling cars in the U.S., our attention is turning to this factory here," Lucid Chairman Andrew Liveris told Bloomberg Television at a mining conference in Riyadh. Specifics being worked out include ownership percentages for Lucid and partners on the project.